If you can't decide what they'd like best, gift them a Diving Cat Studio gift card!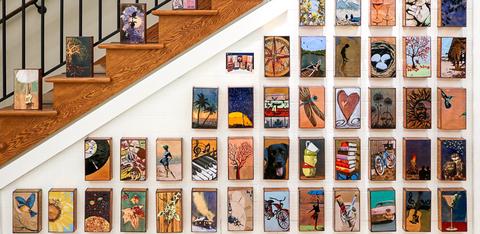 "These icons stretch our memory and bring to mind the people we love, the things we cherish, and the passions we pursue. When collected, Spiritiles become a montage of moments that make us smile, laugh, remember, and dare to dream."
"Each Uno de 50 piece has its own voice and is capable of transmitting strength and energy by itself." 100% handcrafted jewelry made in Spain. Free shipping on all jewelry orders!
We offer private shopping appointments in the mornings before we open, and Sunday and Monday evenings after we close (other hours possible too). Virtual shopping appointments are available as well!
Reach out to John with any questions or to schedule your private experience: (484) 919-8774
We offer FREE shipping on all jewelry orders!
For immediate assistance with an order, call John: (484) 919-8774
Explore the Gallery
Watch owner Markels Roberts talk about the enchanting Diving Cat Studio Gallery experience! ^.".^
I am often asked why I call my studio Diving Cat Studio. Could it be that I have cared for over 30 feral cats feeding, vetting and loving them throughout my life? No, that is not the reason….the reason my studio is called Diving Cat Studio is based more on a feeling…Read the Diving Cat story
Location & Hours
Address: 246 Bridge Street, Phoenixville, PA 19460
Phone: (610)933-3901
Gallery Hours:
Monday: 10am – 6pm
Tuesday: 10am – 7pm
Wednesday: 10am – 8pm
Thursday: 10am – 10pm
Friday: 10am – 10pm
Saturday: 10am – 10pm
Sunday: 10am – 6pm